Passwords: Philology, Security, Authentication (2018)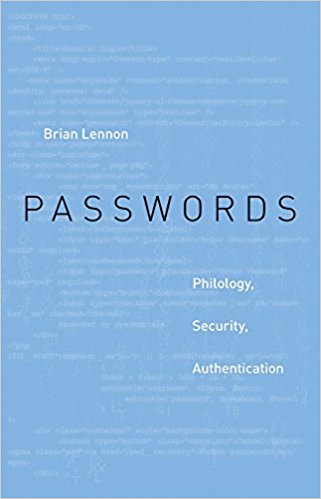 Lennon, Brian. Passwords: Philology, Security, Authentication. Harvard University Press, 2018.
Today we regard cryptology, the mathematical and technical science of ciphers and codes, and philology, the humanistic study of natural or human languages and documents, as separate domains of activity. But the contiguity, even intimacy of these two domains is a historical fact with an institutional history. From the earliest documented techniques for the statistical analysis of text and experiments with mechanized literary analysis, to electromechanical and electronic code-breaking and machine translation, early literary data processing, and the computational philology of late twentieth-century humanities computing and early twenty-first-century "digital humanities," what I call cryptophilology has flourished alongside imperial jingoism and war — and occasionally served them. In this book I argue that while computing's humanistic applications are as every bit as historically important as its mathematical and technical origins, they are no less marked and no less constrained by the priorities of national security agencies and institutions devoted to both offensive signals intelligence and mass surveillance — and that our hope for human progress must be tempered by that, so far as even (or especially) in modern democracies, the proliferation of security institutions and the scale of their operations can be justified only by and through programmatically sustained insecurity.
Harvard University Press catalog page
In Babel's Shadow: Multilingual Literatures, Monolingual States (2010)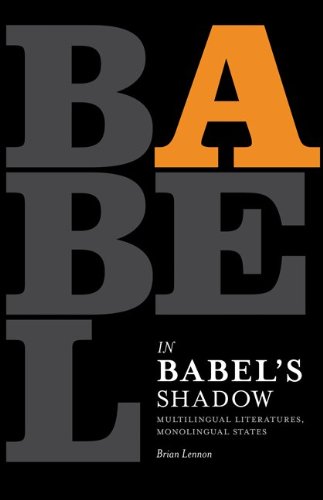 Lennon, Brian. In Babel's Shadow: Multilingual Literatures, Monolingual States. The University of Minnesota Press, 2010. Media Ecology Association Susanne K. Langer Award for Outstanding Scholarship in the Ecology of Symbolic Form, 2014
It may surprise some to read that this book has its origin in new media studies. Certainly, I have parted ways with the gadget lovers, in an area in which complacently energy-dependent boosterism, in the equation of what is new with what needs attention, is in some ways still a critical norm. Still, in formulating a limit for contemporary literary book publication, and so for the criticism dependent on it, I have tried to describe a need for electronic literature, as an archive and engine of forms of textual culture that book culture today really does block — from visibility, and in that, from both critical and archival presence. This has meant backing up from the "new" in new media, on the one hand, and stepping up to the end of printed books, on the other — working a fold in the disciplinary temporality of new media studies, at the very limit of the literary-capitalist print culture through which academic literary and new media studies still reproduce themselves, today.
University of Minnesota Press catalog page
Media Ecology Association 2014 Awards
Reviews and Commentary:
City: An Essay (2002)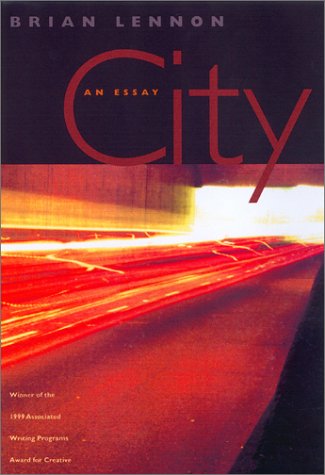 Lennon, Brian. City: An Essay. The University of Georgia Press, 2002, 2011. Associated Writing Programs Award Series in Creative Nonfiction, 2000
I CONFESS THAT I HAVE NO IDEA what Kierkegaard (or his persona, Constantin Constantius) meant by "repetition." Here, however, I mean to say that successive iterations of one single event multiply its existing points of entry. I was born: on the eastmost fringe of the City, in an enclave at the foot of the Airport, and I learned to sleep through the scream of jets, which I knew traveled over the ocean. My earliest awareness of the City: at the station, where I waited with my mother, in the idling car, for my father. At one end of the block: "the creek" — a tract of spongy undeveloped land, beyond which stretched the runways. From the creek: the frogs that filled our yards; Gina Ragazza, two doors down, pressed sharpened sticks through their bodies — twitch, twitch — as airliners floated roaring overhead.
University of Georgia Press catalog page
Associated Writing Programs Award Series, 2000
Reviews and commentary:
The Georgia Review 57.2 (Summer 2003)
Fourth Genre: Explorations in Nonfiction 5.2 (2003)
Boston Review 28.1 (February/March, 2003)
Quarterly West 55 (Fall/Winter 2002–2003)
Hyde Park Review of Books 1.3 (Fall 2002)
Rain Taxi 7.2 (Summer 2002)
Columbia Spectator, July 31, 2002
Publishers Weekly, March 18, 2002
Booklist, January 2002